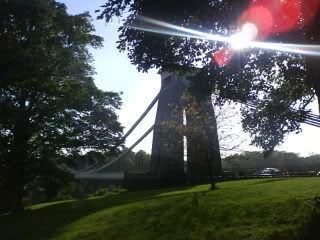 This is the edge of the Clifton Suspension Bridge: if you like its the motif of Bristol. My hotel is just round the corner so before dinner last night I decided to take a stroll to the bridge. Which I did. I wanted to walk across because I would then be able to see the area where I'll be living. But I literally took one step onto the (wobbling) bridge and couldn't go any further. Fear totally took over and I retreated to the side.
As I reflected last night, I realised that the bridge was emblematic of where I have come to. The bridge is high: but it is safe (anything up to 4 tonnes can go over it, I'm going to be OK). The bridge is a route that people have travelled for over 150 years. Yes, some people have chosen to end their lives off the bridge but it doesn't mean that the bridge cannot be enjoyed by other. Moreover, the bridge is the only way to the other side.
I feel a real call of God to live beyond fear. Its more than just facing fears, acknoweldging that you have them. Its a call to live more freely. Its a call to love (this was originally a typo but lets go with it) without stopping in case it stings a little. I can't quite articulate it yet. Its a journey I guess.
And its starts this morning. After breakfast I'm going back to the bridge!