Well maybe.
I haven't really superfluously blogged in a while. So here we go! I don't know whether you have all been introduced to my finger! Well hre it is!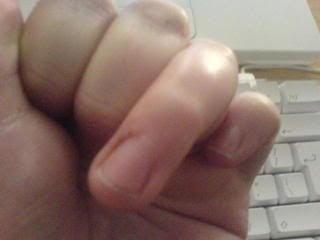 Now the thing about this finger is that it has a little bendy bit missing. Its only a little bit wonky and only really affects hitting people and playing guitar.. or so I thought..
It also seems that when I type with it it hits the keys at a funny angle and wipes the letters off! My laptop is now a-less, and will soon be s-less...
How weird! Just thought I would share!