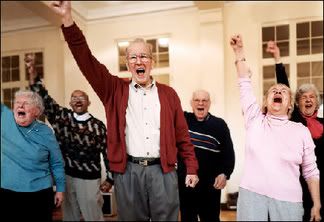 If I told you that I listened to a 92 year old sing "Goodbye Ruby Tuesday" tonight would you think it odd? If I said it reduced me to tears would you laugh? If I said I understood more of the character of God as three old old men sang "Jealous Guy" would you think I'm off my rocker?
I went and saw this beautiful show in Hammersmith tonight.. go see it.. its by a lovely
company of elderly singers: called Young At Heart. AMAZING.
OK.. they don't sing that brilliantly- there are little gaps and duff notes. BUT it is just beautiful.. people singing songs with enough experince that you believe the words. People who move around the stage slowly but with such dignity.
Heres the
link
I can't do it justice.. you have to go see!!