I'm amused that during this week I'm staying in a VERY schmoosy flat on St Georges Wharf in Vauxhall.. and taking advantage I thought I would walk into the Boiler Room today.. It was AMAZING!
For a start, this is what I woke up to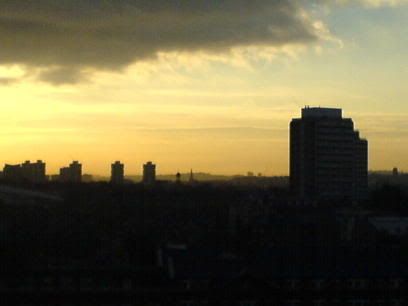 oh... and when I went through to the living room
so I start walking: past MI6 (would have been a rubbish spy the views are just TOO good), and along the Albert Embankment. As I left the flats I saw a little sign telling the history of the area- weirdly including some links back to Luton. Just a little way along there's Lambeth palace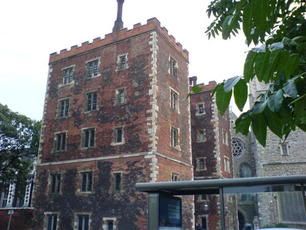 One of the seats of the church in the world just hiding on the river's edge. Just across the Thames sits one of the oldest seats of democracy in the world too (I say democracy in the loosest sense of the word!)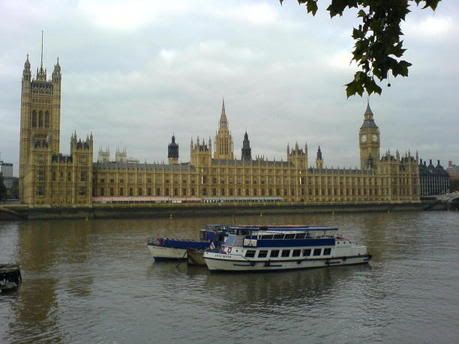 I resisted the temptation to get on the Tube at Westminster, and carried on- past the Old County Hall: past the London Eye (the photo of that didn't come out.. but think big bicycle wheel!).. then onto South Bank with a reminder of real life- smelly underpasses and the tags of the skater crew
On to the Tate Modern, over the Millennium Bridge and past St Paul's- finally into the City.. (not before looking back over my shoulder to snatch a glimpse at the Globe Theatre... ) As I walked up through little Britain to Barts hospital I passed a bombed out church, destroyed in the Blitz.. now a garden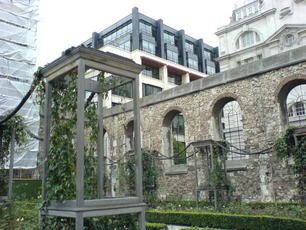 Finally up London Wall: literally seeing the wall, then taking a left up Moorgate...
Why am I telling you all this? Well as I walked I relaised more and more the privilege that it is to come and serve and pray in this majestic old city.. It may have finally put my moaning to sleep... when do I move in?